Traditional glasses and contact lenses have been the go-to solution for vision impairment for many years. But with advancements in medical technology, a more long-term and effective solution is at hand. The world of laser eye surgery, where cutting-edge technology meets skilled precision to grant you the clear vision you've always wanted. This blog aims to enlighten you about the transformative potential of the Laser Eye Center and provide a few examples of centers near you.
Is LASIK Laser Safe For Eyes?
Yes, LASIK (Laser-Assisted In Situ Keratomileusis) is generally considered safe for correcting a wide range of refractive errors. Such as myopia (nearsightedness), hyperopia (farsightedness), and astigmatism. This procedure has been performed for several decades around the world, with numerous studies documenting its safety and efficacy.
In LASIK, a thin flap is created on the cornea (the clear front surface of the eye), then lifted to allow a special laser to reshape the underlying corneal tissue. The flap is then repositioned, which aids in the healing process. The aim of the procedure is to reshape the cornea so that light entering the eye can be properly focused onto the retina for clear vision.
Like all surgical procedures, however, LASIK does have potential risks and complications, though they are relatively rare. It is crucial that anyone considering LASIK undergoes a comprehensive eye exam. And consultation with a qualified ophthalmologist or optometrist. It will help to assess their suitability for the procedure.
How Is Laser Eye Center Helpful?
A Laser Eye Center is a specialized facility that offers advanced vision correction services like LASIK, PRK (photorefractive keratectomy), and other laser eye surgeries. These centers can be incredibly beneficial for individuals seeking a long-term solution to their vision problems. Here are some ways a Laser Eye Center can be helpful:
Expertise and Specialization
Laser Eye Centers specialize in laser vision correction procedures. This means that the surgeons and staff are highly trained and experienced in these procedures, ensuring you receive the highest standard of care.
These centers are typically equipped with the latest technology in laser vision correction. This allows for more precise and individualized treatment, leading to better outcomes.
Laser Eye Centers offer comprehensive care, from initial consultations and pre-operative testing to post-operative follow-up. This continuity of care can lead to better outcomes and patient satisfaction.
These centers prioritize patient education, ensuring you fully understand the procedure, potential risks, and benefits, so you can make an informed decision about your eye care.
Many Laser Eye Centers are part of larger networks, meaning you have access to their services in multiple locations.
Laser Eye Centers often offer various financing options, making these procedures more accessible to a wider range of patients.
Many Laser Eye Centers are involved in research and development. This will help to continually advance the field of laser vision correction.
In short, Laser Eye Centers offer a combination of expertise, advanced technology, and comprehensive care that can help patients achieve their vision goals. However, the success of any laser eye surgery ultimately depends on individual factors. Thus, it should be discussed in detail with a healthcare professional.
What Are The Best Laser Eye Centers Near Me?
If you're based in Delhi, there are several highly-rated Laser Eye Centers for you to consider. Here are five top institutions known for their quality care and expert services:
EyeMantra Eye Centre
This is one of the premier institutions for eye care in Delhi. EyeMantra provides comprehensive eye care services, including advanced procedures like LASIK, SMILE, and cataract surgeries. Their experienced team of eye specialists ensures patients receive personalized, high-quality care. It is situated in Paschim Vihar, New Delhi so make sure you reach to the center for personalized care.
AIIMS (All India Institute of Medical Sciences) RP Eye Centre
The RP Centre for Ophthalmic Sciences at AIIMS is a world-renowned institution providing state-of-the-art patient care, research, and teaching in ophthalmology. Its highly skilled doctors and advanced technological facilities make it one of the best choices for laser eye surgery.
Centre for Sight
With multiple branches in Delhi, the Centre for Sight is another trusted name in eye care. They offer a variety of services, including LASIK and SMILE, and they have a strong reputation for their patient-centered care.
Dr. Shroff's Charity Eye Hospital
Established in 1914, Dr. Shroff's Charity Eye Hospital is one of the oldest and most respected eye hospitals in India. They offer comprehensive eye care services, including advanced laser eye surgery options.
Vision Eye Centre
Located at Siri Fort Road in the heart of South Delhi and in West Patel Nagar, Vision Eye Centre. It is known for its world-class infrastructure and expert team of ophthalmologists. They provide an array of services including LASIK and blade-free cataract surgery.
Remember, before deciding on any procedure, it's crucial to consult with a medical professional to understand the potential risks and benefits. They can help determine which procedure is most suitable for your unique needs.
How To Prepare For LASIK Laser Eye Surgery?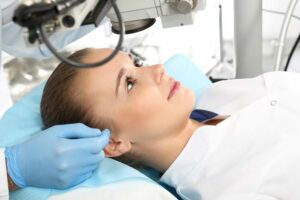 Preparing for LASIK eye surgery involves several steps, both in the weeks leading up to the surgery and on the day of the procedure itself.
Prior to the Procedure
Initial Consultation: Meet with your eye doctor for a thorough examination and consultation. This may involve measuring your eye, checking your vision, and assessing your overall eye health.
Stop Wearing Contact Lenses: If you wear contact lenses, you'll need to switch to glasses for a period of time before the surgery. Contact lenses can change the shape of your cornea, affecting the accuracy of the measurements taken for the surgery. Your doctor will tell you when to stop wearing them.
Discuss Your Medical History: Tell your doctor about your general health and any medications you're taking. Certain conditions or medications might affect your suitability for LASIK.
Arrange for Transportation: You won't be able to drive immediately after the surgery, so make sure to arrange transportation to and from the clinic on the day of the procedure.
On the Day of the Procedure
Clean Your Eyelids: Ensuring that your eyelids are clean can reduce the risk of infection.
Don't Wear Eye Makeup or Creams: Avoid applying any makeup, creams, or perfumes. These products, as well as debris along the eyelashes, can increase the risk of infection.
Dress Comfortably: Wear comfortable clothing and avoid items with lots of lint or that generate static electricity. The surgery room might be cool, so a light sweater is often a good choice.
Eat a Light Meal: It's generally okay to eat a light meal before the surgery. Also, remember to take any regular medications (unless your doctor has instructed you otherwise).
Stay Calm: It's natural to feel a bit nervous before the procedure. But remember that LASIK is a quick procedure with a high success rate.
Remember, these are general guidelines. Your doctor will give you specific instructions based on your individual circumstances. Always follow your doctor's advice to ensure the best possible outcome from your LASIK surgery.
Conclusion
In conclusion, a Laser Eye Center is an invaluable resource for individuals seeking advanced, long-term solutions to vision problems. Procedures like LASIK offer the potential for significant vision improvement and can have a transformative impact on one's quality of life. If you are based in Delhi, renowned centers like EyeMantra Eye Centre, AIIMS RP Eye Centre, Centre for Sight, Dr. Shroff's Charity Eye Hospital, and Vision Eye Centre are worth considering for their expertise and state-of-the-art facilities.
Always remember, while LASIK is generally safe and effective, it's important to have a detailed discussion with a qualified healthcare professional. They will help you to understand the potential risks and benefits based on your specific circumstances. Your journey towards a clear vision is a personal one, and the decisions you make should be well-informed.
Generally, LASIK eye surgery is a safe 10-minute procedure to help you get rid of glasses. EyeMantra offers the most advanced LASIK options including PRK, Femto Lasik, SMILE surgery, Standard lasik, ICL and Contoura vision. If you have any questions on Lasik surgery in Delhi, Lasik surgery cost and Lasik procedure, call us at 9711116605 or email at [email protected].