We think that everyone has the right to see the world clearly. That is why we've chosen to devote our life to providing people with the greatest eye doctors possible.
Every Individual has the Right to See the World
Clearly.
Have you heard of Laser in situ keratomileuses (LASIK)? In this procedure, a laser is used to reshape the cornea and fix issues such as myopia (short-sightedness), hypermetropia (long-sightedness), and astigmatism via Lasik Surgery. It's an innovative medical treatment that can help sharpen your eyesight with accuracy while providing long-lasting results.
Before commencing the Lasik surgery, your eye will be numbed with a local anesthetic and protected from any blinking through a special eyelid clip. While you won't have visual access to what's taking place at that moment, you can witness either a red or green light during the process. To create extremely thin flaps on your cornea, precision equipment such as a Microkeratome or IntraLase laser will be employed.
Utilizing a computer-controlled laser, your surgeon will open the flap of your eye (like opening up the cover of a book) and reshape the cornea below. This process should take around 30 seconds to complete all tissue removal. Post-operation, they'll reposition this flap back over so it can fuse together with the remainder of your cornea – no stitches necessary! In order to keep infection at bay, antibiotic drops are prescribed by your Lasik Surgeon for further precautionary measures.
Book Appointment or Video Consultation online with top eye doctors
LASIK is a safe surgical treatment with minor risks and few post-operative problems. Laser Specs removals done by us have helped patients abandon their glasses for good.
The most frequent introspection done by Lasik Patients before having Lasik Surgery are:
Are you tired of being held back by glasses and contact lenses? Do you seek a more permanent remedy to your vision problems?
Is there a way to discard my eyeglasses forever with Lasik eye surgery?
Could I be a viable candidate for Lasik laser surgery?
Are you looking to get Lasik surgery in Delhi?
Are you curious about how much laser eye surgery will cost?
Which procedure should you choose – and how do the various options compare?
What should I do after Lasik laser eye surgery?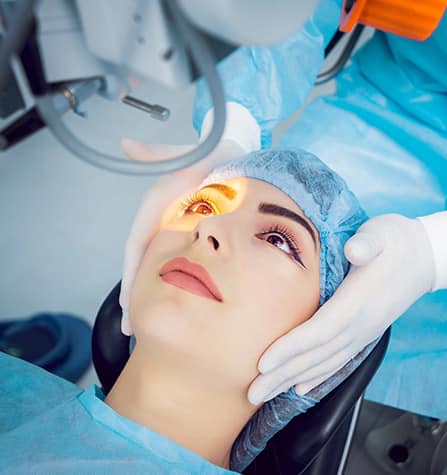 If you're looking for a reliable and experienced eye care provider, look no further than Eye Mantra! With more than 100,000 successful eyes operated on by its staff of specialists, this hospital is one of the top-ranking locations in India for LASIK surgery. Other leading providers available throughout the country include Shroff eye hospital, AIIMS, and Sankara Netralaya. Don't wait any longer – make an appointment today to experience all the benefits that high quality LASIK can offer you.
Here at our clinic, we are proud to be among the first in India to offer Laser Femto Assisted Surgery Unit. This technique provides corrections for pre-existing astigmatism. Our top LASIK surgeons based in Delhi and other cities use state of the art technology to ensure that patients receive only the best possible outcomes after undergoing LASIK surgery.
When it comes to LASIK eye surgery, cost is dependent on the technique you opt for. The more state-of-the-art technology used will require a greater investment. Nonetheless, this fee includes qualified surgeons and their knowledge of current trends in modern medicine – only specialized ophthalmologists with competence training in India are eligible to perform these treatments.
The Eye Mantra hospital is an exemplary eye institution in India, offering a wide variety of LASIK surgeries at budget-friendly prices. Standard Blade LASIK treatments range from ₹15,000 to ₹20,000 roughly – however bladeless procedures can cost up to double this amount depending on the complexity and techniques required for each individual case. In Delhi you may find that these costs come closer to the region of ₹75,000 – ₹90,000 (approx.)
| Procedure | Recovery Time | Risks (Dislocation / flap tearing) | Suitability (High power / thin cornea) | Key Benefit | Price/Eye (₹) |
| --- | --- | --- | --- | --- | --- |
| Standard LASIK In Delhi | 30 days | High | | Basic standard surgery for specs removal | 12,000 |
| C LASIK In Delhi | 15 days | High | | Customized to cornea | 16,000 |
| Contoura In Delhi | 3 days | Low | | Corneal polishing and aberration removal for super vision. | 25,000 |
| TransPRK In Delhi | 3 days | Low | | One step procedure: Bladeless, Flapless, Touchless, and Safest | 32,000 |
| Femto LASIK In Delhi | 3 days | High | | Laser used to create flap | 40,000 |
| ICL Surgery In Delhi | 3 days | Medium | | Eye lens replaced with a new lens | 40,000 |
| Smart Surf LASIK In Delhi | 3 days | Lowest | | 5D Eye tracking with aberration removal | Max tissue saving | 45,000 |
| SMILE In Delhi | 7 days | Low | | Laser used to extract eye tissue for vision correction | 80,000 |