What if I am not eligible?
We believe that everyone has the right to see things clearly. That is why we have chosen to devote our life to offering people with the finest eye doctors available.
Every Individual has the Right to a Clear View of the
World.
The popularity of Lasik surgery in Delhi has been on a steady rise, which means more and more individuals are seeking out the procedure. However, since this is an independent operation with specific requirements for eligibility and conditions to be fulfilled before any treatment begins, it's essential that you know if you're fit for the process. To ensure everyone's safety during their eye correction journey, make sure your criteria meets all standards set by professionals before undergoing Lasik Surgery!
With the vast amount of people eligible for Lasik, some may find themselves excluded due to certain requirements. To ensure that you fit within those eligibility criteria and are able to undergo laser surgery, it is important first to consult with your doctor. After a comprehensive eye examination and responding appropriately to their questions regarding your vision health, they will be able to determine if you are an ideal candidate or not.
Book Appointment or Video Consultation online with top eye doctors
LASIK is a safe surgical treatment with minor risks and few post-operative problems. Laser Specs removals done by us have helped patients abandon their glasses for good.
Some of the criteria for Lasik eye surgery are:
The candidate must be at least 18 years of age.
They should have a stable prescription for glasses or contact lenses.
For successful eye correction therapy, it is necessary to have consistent vision.
Due to the alterations in a pregnant woman's vision, surgery is not an option for them.
Those suffering from autoimmune diseases, diabetes, and glaucoma may not be ideal candidates for the program.
For good ocular health, one should not have a history of herpes infection in the eyes.
A nurse must not be the patient.
If a patient's cornea has been stretched beyond seven millimetres and is not in the regular form, they are ineligible to undergo Lasik surgery.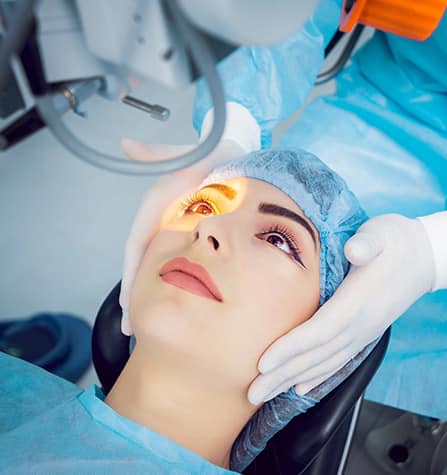 The following are some of the Unfit Lasik cases' alternatives for reducing dependence on glasses.
PRK Lasik Surgery
Implantable Contact Lens (ICL) Surgery
Keratoconus Treatment (C3R & INTACS)
Clear Lens Extraction