High myopia, also known as severe nearsightedness, can significantly impact a person's quality of life. Traditional refractive surgeries like LASIK and PRK have been successful in correcting refractive errors; however, they may not be suitable for individuals with high myopia due to the increased risks associated with these procedures. In recent years, an innovative laser vision correction technique called TransPRK has gained popularity as a safe and effective option for addressing high myopia. In this article, we will explore the benefits, procedure, success rates, and more, related to TransPRK for high myopia.
Understanding TransPRK
TransPRK, short for Trans-Epithelial Photorefractive Keratectomy, is an advanced laser vision correction procedure designed to correct refractive errors such as myopia, hyperopia, and astigmatism. Unlike LASIK, TransPRK does not involve the creation of a corneal flap. Instead, the entire treatment is performed directly on the cornea's surface, offering a unique set of advantages for individuals with high myopia.
Advantages of TransPRK for High Myopia
No flap creation: In traditional refractive surgeries like LASIK, a corneal flap is created before reshaping the cornea. In TransPRK, the laser is applied directly to the corneal surface, eliminating the need for a flap. This reduces the risk of flap-related complications, making TransPRK a safer option for individuals with high myopia.
Enhanced safety profile: Since TransPRK avoids corneal flap creation, there is no risk of flap dislocation or complications associated with the flap healing process. This makes TransPRK a preferred choice for patients engaged in contact sports, activities with a high risk of eye trauma, or professions that involve physical contact.
Faster recovery time: TransPRK offers a faster recovery time compared to traditional refractive surgeries. With TransPRK, the corneal surface regenerates naturally without the need for a healing period associated with flap creation. Most patients experience significant visual improvement within a few days, and their vision continues to stabilize over a few weeks.
The Procedure: TransPRK for High Myopia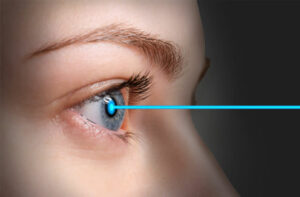 Before undergoing TransPRK, individuals with high myopia will undergo a thorough pre-operative evaluation to determine their candidacy for the procedure. This evaluation typically includes a comprehensive eye examination, corneal topography, and measurements of corneal thickness and refractive errors. Once deemed suitable, the surgical process follows these steps:
Anesthetic eye drops: Before the procedure, the eye surgeon administers anesthetic eye drops to ensure the patient's comfort throughout the surgery. These drops numb the surface of the eye, minimizing any potential discomfort.
Epithelial removal: The first step of TransPRK involves gently removing the outer layer of the cornea, known as the epithelium. This is achieved using an excimer laser, which precisely ablates the epithelial cells, preparing the cornea for reshaping.
Corneal reshaping: Once the epithelial layer is removed, the excimer laser is used to reshape the underlying corneal tissue according to the patient's refractive error. The laser sculpts the cornea, correcting the curvature and enabling light to focus correctly on the retina.
Protective contact lens: Following the corneal reshaping, a therapeutic contact lens is placed on the treated eye to protect the cornea as it heals. This lens acts as a barrier, promoting epithelial regeneration and providing comfort during the initial healing phase.
Post-operative Care
After the TransPRK procedure, patients are provided with detailed post-operative instructions to ensure optimal healing and visual outcomes. These instructions may include:
Eye drops: Patients are prescribed medicated eye drops to prevent infection, reduce inflammation, and promote healing. These drops are used according to the surgeon's instructions.
Avoidance of eye rubbing: Patients must refrain from rubbing their eyes during the healing process to prevent any complications and promote proper epithelial regeneration.
Regular follow-up visits: Patients are scheduled for follow-up visits with their eye surgeon to monitor their healing progress and address any concerns.
Is It Successful?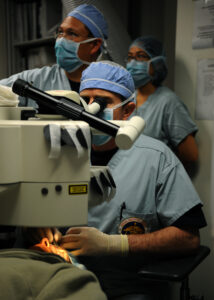 TransPRK is effective in correcting high myopia in many cases. The success of the procedure depends on various factors, including the severity of myopia, the corneal thickness, and the overall health of the patient's eyes. In general, TransPRK can provide significant vision improvement and reduce or eliminate the need for glasses or contact lenses.
However, it's important to note that the success of any surgical procedure can vary from person to person. Some individuals may experience temporary side effects such as dry eyes, blurry vision, or sensitivity to light following TransPRK, but these typically resolve as the eyes heal. Additionally, there is a small risk of more serious complications, although they are relatively rare.
If you're considering TransPRK for high myopia correction, it's essential to consult with an experienced eye surgeon who can evaluate your specific case and provide personalized recommendations based on your circumstances.
Potential Risks and Complications
Although TransPRK is a safe procedure, it is essential to be aware of potential risks and complications, which can include:
Undercorrection or overcorrection: There is a possibility that the desired refractive correction may not be achieved. This leads to residual nearsightedness or farsightedness. In some cases, a second surgery may be required to fine-tune the results.
Dry eye syndrome: TransPRK can temporarily disrupt the nerves in the cornea. It leads to reduced tear production and dryness of the eyes. This condition usually resolves within a few weeks to a few months after surgery. However, in rare cases, it can persist longer or become chronic.
Corneal haze: Some patients may develop a condition called corneal haze, which is the formation of a cloudy or hazy layer on the cornea. This can affect vision quality, but it is typically temporary and resolves over time with proper treatment.
Infection: Although rare, there is a small risk of developing an eye infection after TransPRK. It is important to follow post-operative care instructions, including using prescribed eye drops, to minimize the risk of infection.
Night vision disturbances: Some individuals may experience glare, halos, or starbursts around lights, especially at night or in low-light conditions. These visual disturbances are usually temporary and improve as the eyes heal, but in rare cases, they can persist.
Comparing TransPRK with Other Refractive Surgeries
When considering vision correction options for high myopia, it is essential to compare TransPRK with other refractive surgeries:
LASIK vs. TransPRK: LASIK involves creating a corneal flap, which introduces additional risks, especially for individuals with high myopia. TransPRK eliminates the need for a flap, providing a safer alternative with comparable visual outcomes.
PRK vs. TransPRK: PRK is a predecessor to TransPRK and involves removing the epithelial layer manually. TransPRK combines PRK with the use of an excimer laser, allowing for more precise and controlled treatment.
Conclusion
TransPRK is an innovative and effective option for individuals with high myopia seeking vision correction. With its flapless approach, enhanced safety profile, and faster recovery time, TransPRK offers numerous advantages over traditional refractive surgeries. The procedure has shown excellent success rates and high patient satisfaction, making it a promising solution for those looking to improve their vision and reduce dependency on corrective lenses.
LASIK eye surgery is a safe 10-minute procedure to help you get rid of glasses. EyeMantra offers the most advanced LASIK options including PRK, Femto Lasik, SMILE surgery, Standard LASIK, ICL, and Contoura vision. If you have any questions on Lasik surgery in Delhi, Lasik surgery cost, and Lasik procedure, call us at 9711116605 or email at [email protected].