In the world of ophthalmology, keratoconus has presented challenges and complications for both patients and medical professionals alike. However, advancements in technology and procedural techniques have paved the way for more effective management of this condition. One such development is the use of Topography-Guided PRK for keratoconus. It's a surgical procedure designed to reshape the cornea and improve visual outcomes. This blog will delve into the intricacies of this ground-breaking approach, offering insights into its efficacy, potential benefits, and suitability for individuals living with keratoconus.
What Is Topography-Guided PRK?
Topography-Guided Photorefractive Keratectomy (TG-PRK) is an advanced form of refractive eye surgery. It uses a detailed topographic map of the cornea to guide the laser treatment. This map is generated using a device that measures the curvature and elevations of the cornea's surface, providing a precise, three-dimensional view of the cornea's irregularities. The aim of TG-PRK is to regularize the cornea's shape, thereby improving the optical quality of the eye and reducing visual distortions.
The procedure involves the removal of the thin outer layer of the cornea, followed by the application of a precise amount of laser energy to reshape the cornea based on the pre-operative topographic map. This highly personalized approach allows for a more refined treatment than conventional PRK, making it potentially beneficial for individuals with complex or irregular corneal shapes, such as those with keratoconus.
Can You Do PRK With Keratoconus?
In recent years, advancements in corneal imaging technology and surgical techniques have made it possible to perform certain types of refractive surgery on people with keratoconus, under specific circumstances. Topography-guided PRK (TG-PRK) is one such procedure.
TG-PRK uses detailed maps of the cornea's shape to guide the laser during surgery, allowing for more precise and individualized treatment. This can help to regularize the cornea's shape and improve visual acuity. However, Topography-guided PRK for keratoconus should be combined with corneal cross-linking. This is a procedure that strengthens the cornea and helps prevent further progression of the disease.
It's important to note that not everyone with keratoconus is a suitable candidate for TG-PRK. So, careful screening and assessment are needed to determine who might benefit from this procedure. As with any surgical procedure, TG-PRK comes with potential risks and complications, and these must be weighed against its potential benefits.
What To Expect With TG-PRK For Keratoconus Process?
Here's what you can expect with topography-guided PRK for keratoconus:
Pre-Procedure
Comprehensive eye examination and corneal topography to measure the shape and curvature of the cornea.
Discussion about the procedure, expected results, and potential risks.
Creation of a personalized treatment plan based on your specific condition.
During Procedure
Application of anesthetic eye drops for your comfort.
Removal of the outer layer of the cornea (the epithelium).
Use a computer-guided excimer laser, programmed with your corneal measurements, to reshape the cornea.
Placement of a protective "bandage" contact lens over the treated area.
Optional immediate follow-up with a corneal cross-linking procedure to strengthen the cornea and prevent further progression of keratoconus.
Post-Procedure
Mild discomfort, light sensitivity, tearing, or a feeling of something in the eye. These are common and temporary.
Use of prescribed antibiotics and anti-inflammatory eye drops to promote healing and prevent infection.
Frequent follow-up visits with your surgeon to monitor healing and visual improvement.
Gradual vision improvement over several weeks to months as your eye heals and stabilizes.
Strict adherence to post-operative instructions provided by your surgeon.
It's essential to remember that every person's eyes are unique. And the recovery timeline can vary. Your ophthalmologist will guide you through the entire process, ensuring that your eyes are healing correctly and that your vision is improving.
Who Is The Right Candidate For This Procedure?
Topography-Guided PRK (TG-PRK) is an advanced surgical procedure that requires careful patient selection. Ideal candidates for this procedure generally include:
Diagnosis of Keratoconus: TG-PRK is especially beneficial for individuals with keratoconus, a condition characterized by a conical and irregularly shaped cornea.
Stable Refraction: Candidates should have a stable refraction, meaning that their prescription has not significantly changed over the past year.
Adequate Corneal Thickness: The cornea must have sufficient thickness to tolerate the reshaping process during the procedure. This is assessed during the pre-operative examination.
Age Factors: Patients are generally over 18 years old, given that the procedure is not recommended for individuals whose eyes are still growing or changing shape.
Good Overall Eye Health: Aside from keratoconus, the patient should have no other significant eye diseases or conditions, including severe dry eye, glaucoma, or a history of ocular herpes.
Healthy Expectations: Finally, good candidates for TG-PRK have a clear understanding of the procedure, including its benefits, risks, and limitations, and have realistic expectations of the outcome.
It's important to remember that the decision to proceed with TG-PRK should be made in consultation with a knowledgeable and experienced ophthalmologist. The specialist can conduct a thorough assessment of your specific condition and discuss the best treatment options for you.
What Are The Pros And Cons?
Like all medical procedures, Topography-Guided PRK for keratoconus comes with its unique set of advantages and potential drawbacks. Here's a closer look at both:
Pros
Improved Visual Quality: TG-PRK can significantly improve the quality of vision by regularizing the irregular corneal surface seen in the keratoconus. It will lead to decreased visual distortions and improved uncorrected and best-corrected visual acuity.
Tailored Treatment: The procedure uses detailed corneal topography maps to guide the laser treatment. This allows for a highly individualized approach that addresses the specific topography of each patient's cornea.
Avoids Corneal Transplant: TG-PRK, especially when combined with corneal cross-linking, can help delay or even avoid the need for a corneal transplant, a more invasive procedure, in some patients with keratoconus.
Enhanced Contact Lens Comfort: By regularizing the corneal surface, TG-PRK can make wearing contact lenses more comfortable for those who still need them post-surgery.
Cons
Recovery Time: The recovery process for TG-PRK can be longer and more uncomfortable compared to other refractive surgeries. The healing process can take several weeks to months, and patients may experience some pain, irritation, and sensitivity to light in the initial days after surgery.
Risk of Haze: There's a small risk of developing corneal haze (scarring) after the procedure, which may affect vision. This risk can be reduced with the use of mitigating strategies like the application of Mitomycin C during surgery and the use of corticosteroid eye drops after surgery.
Need for Continued Eye Care: Even after TG-PRK, patients with keratoconus will need to continue regular eye exams to monitor the progression of the disease. Some patients may still need to use glasses or contact lenses after surgery.
Not Suitable for Everyone: Not all patients with keratoconus are suitable candidates for TG-PRK. The procedure requires a certain minimum corneal thickness and stability of the condition.
Remember, it is crucial to have a comprehensive discussion with your ophthalmologist about these pros and cons in the context of your specific condition and lifestyle needs before deciding to go ahead with the procedure.
Is TG-PRK Right For You?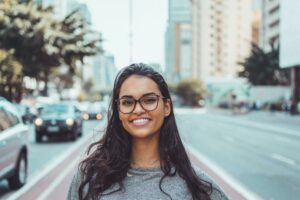 Determining if Topography-Guided Photorefractive Keratectomy (TG-PRK) is the right treatment option for you involves a thorough evaluation of your specific condition, needs, and lifestyle factors. Here are some questions to consider:
Have other treatments been ineffective? If you've already tried glasses or contact lenses and they aren't providing adequate vision correction, TG-PRK may be an option to consider.
Is your keratoconus stable? TG-PRK is generally more effective in patients whose condition is not rapidly progressing.
Is your cornea thick enough? Adequate corneal thickness is crucial for the laser to safely and effectively reshape the cornea during the procedure.
What is your overall eye health? Aside from keratoconus, you should not have other significant eye diseases or conditions that may complicate surgery or recovery.
Are you aware of the risks and benefits? Understanding what TG-PRK involves, including potential complications and the expected recovery process, is vital for setting realistic expectations.
Are you committed to post-operative care? Successful outcomes from TG-PRK require careful adherence to post-operative instructions, including the use of eye drops and attending all follow-up appointments.
Have you discussed it with an expert? A consultation with an experienced ophthalmologist specializing in corneal diseases and refractive surgery is crucial to evaluate your suitability for the procedure and explore all potential treatment options.
Remember, TG-PRK is just one of several treatment options for keratoconus. It is essential to make an informed decision based on a comprehensive assessment and discussion with your healthcare provider.
Conclusion
Topography-Guided PRK for keratoconus offers a tailored approach to reshaping the cornea and improving visual outcomes. Especially when combined with corneal cross-linking, it can be a game-changer. That said, it is not a one-size-fits-all solution. Determining if this procedure is right for you involves a comprehensive evaluation and discussion with your ophthalmologist. With the right approach and support, managing keratoconus is more than just possible—it's achievable.
Eye surgery is a safe 10-minute procedure to help you get rid of glasses. EyeMantra offers the most advanced eye surgery options including PRK, Femto Lasik, SMILE surgery, Standard lasik, ICL and Contoura vision. If you have any questions on Lasik surgery in Delhi, Lasik surgery cost and Lasik procedure, call us at 9711116605 or email at [email protected].