If you're tired of relying on reading glasses or struggling with blurred near vision, this blog is your comprehensive guide to understanding how PRK can help restore your visual clarity and freedom. Join us as we explore the ins and outs of PRK for presbyopia, its benefits, and considerations. And what you can expect from this innovative procedure.
Can PRK Correct Presbyopia?
While PRK (Photorefractive Keratectomy) is a widely used laser eye surgery technique for correcting refractive errors. Such as nearsightedness, farsightedness, and astigmatism. And it is not specifically designed to correct presbyopia. Presbyopia is a natural age-related condition that affects the eye's ability to focus on close objects due to the hardening of the lens and loss of flexibility.
However, there are certain approaches that can be used during PRK surgery to address presbyopia to some extent. These techniques are known as "monovision" or "blended vision." With monovision, one eye is adjusted for distance vision while the other eye is slightly adjusted for near vision. This allows the brain to adapt and use the appropriate eye for different distances, providing a range of vision from near to far. Blended vision is a similar concept, but both eyes are adjusted to have some focus for both near and distant vision.
How Does PRK For Presbyopia Work?
Here's a step-by-step overview of how PRK for presbyopia works:
Consultation and Evaluation
Before undergoing PRK, you will have a comprehensive eye examination to assess your overall eye health and determine if you are a suitable candidate for the procedure. The surgeon will evaluate the severity of your presbyopia and discuss the potential benefits and risks of PRK for your specific case.
During PRK, the surgeon uses an excimer laser to precisely remove a thin layer of the cornea's surface, called the epithelium. This exposes the underlying corneal tissue.
Multifocal or Blended Vision Approach
In order to address presbyopia, the surgeon may utilize a multifocal or blended vision technique. This involves reshaping the cornea in a way that provides multiple focal points, allowing for improved vision at both near and far distances. Monovision, where one eye is adjusted for distance and the other for near vision, is one approach used in PRK for presbyopia.
After the corneal reshaping is complete, a protective contact lens is placed on the eye to aid in healing. The epithelium will regenerate over the following days or weeks. During this time, it is important to follow the post-operative care instructions provided by your surgeon, which may include the use of medicated eye drops and avoiding strenuous activities.
You will have several follow-up visits with your surgeon to monitor your healing progress and evaluate the outcomes of the procedure. These visits are crucial for ensuring proper healing and addressing any concerns or questions you may have.
Who Is Not Suitable For PRK Eye Surgery?
While PRK (Photorefractive Keratectomy) is a safe and effective laser eye surgery for many individuals. Still, there are certain factors that may make someone unsuitable for the procedure. Here are some general factors that may make someone unsuitable for PRK:
Insufficient Corneal Thickness: PRK involves the removal of a thin layer of the cornea to reshape its curvature. If your cornea is too thin, undergoing PRK may weaken the structural integrity of the eye. And increase the risk of complications. Your eye care professional will evaluate your corneal thickness to determine if it is sufficient for the procedure.
Unstable Vision: PRK is typically recommended for individuals whose vision has stabilized. If your vision prescription has been changing frequently over the past year. Then, it may be a sign of unstable vision. In such cases, your eye care professional may recommend waiting until your prescription has stabilized.
Severe Dry Eye Syndrome: Dry eye syndrome can cause discomfort and affect the healing process after PRK surgery. If you have severe dry eyes or a history of chronic dry eyes. Then, it may increase the risk of complications and affect your overall visual outcomes.
Eye Diseases or Conditions: Certain eye diseases or conditions may disqualify you from undergoing PRK. Examples include corneal diseases (such as keratoconus), glaucoma, cataracts, significant retinal diseases, and autoimmune disorders. These conditions can affect the safety and effectiveness of PRK surgery.
Pregnancy or Nursing: Hormonal changes during pregnancy and breastfeeding can affect the stability of your vision. It is generally recommended to postpone PRK surgery until after pregnancy and breastfeeding. As this will ensure accurate vision measurements and stable outcomes.
It's important to consult with an experienced eye care professional to determine if PRK is suitable for you. They will evaluate your specific circumstances, eye health, and medical history to provide personalized recommendations.
What Are Some Risks Of PRK For Presbyopia?
Like any surgical procedure, PRK (Photorefractive Keratectomy) for presbyopia carries certain risks and potential complications. It's crucial to have a thorough discussion with your eye care professional to understand these risks. And only then make an informed decision. Here are some potential risks associated with PRK for presbyopia:
Under-correction or Overcorrection
Achieving the desired balance between near and distance vision can be challenging with PRK for presbyopia. In some cases, the procedure may result in an under-correction (insufficient improvement in near vision) or overcorrection (excessive improvement in near vision, leading to distance vision issues). Additional enhancements or the need for reading glasses may be necessary to achieve optimal vision.
Reduced Contrast Sensitivity
PRK can occasionally cause a reduction in contrast sensitivity, which affects the ability to distinguish between objects of similar color or shade. This may result in a slight decrease in visual quality, especially in low-light conditions.
Dry Eye Syndrome
PRK can temporarily disrupt normal tear film production, leading to dry eye symptoms such as dryness, itching, burning, or foreign body sensation. These symptoms usually improve with time, but in some cases, they may persist or require ongoing management.
Haze or Scarring
In rare instances, PRK may cause the development of corneal haze or scarring. This can affect vision clarity and quality. Haze formation is more common in higher prescription corrections and typically resolves over time with proper post-operative care.
Infection
Although rare, there is a small risk of developing an eye infection after PRK. Strict adherence to post-operative care instructions. Including proper hygiene and the use of prescribed eye drops, can help minimize this risk.
Glare, Halos, or Starbursts
Some individuals may experience visual disturbances such as glare, halos, or starbursts around lights, especially during nighttime or in low-light conditions. These symptoms typically diminish with time as the eyes heal. But in rare cases, they may persist.
It's important to remember that while these risks exist, the majority of PRK surgeries are successful and result in improved vision. It's crucial to follow all pre-operative and post-operative instructions provided by your surgeon to minimize the risks. And enhance the healing process. Regular follow-up visits and open communication with your eye care professional are essential for monitoring your progress and addressing any concerns that may arise.
How To Find The Best PRK Surgeon For Me?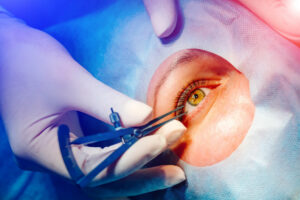 Finding the best PRK surgeon for your needs requires careful consideration and research. Here are some steps to help you find a qualified and experienced PRK surgeon:
Seek Recommendations: Start by seeking recommendations from trusted sources, such as family, friends, or primary care physicians. They may have personal experiences or know reputable eye care professionals who specialize in PRK surgery.
Research Credentials: Once you have a list of potential surgeons, research their credentials and qualifications. Look for surgeons who are board-certified and have specialized training in refractive surgery. Verify their licenses and check for any disciplinary actions or malpractice claims.
Experience and Expertise: Consider the surgeon's experience and expertise in performing PRK surgery. Find out how many PRK procedures they have performed and inquire about their success rates. A surgeon with significant experience in PRK is likely to have honed their skills and provide better outcomes.
Technology and Facilities: Inquire about the technology and facilities available at the surgeon's clinic or hospital. Up-to-date equipment and advanced technology contribute to more accurate and successful PRK outcomes.
Second Opinion: If you are unsure about a particular surgeon's recommendation. Then, don't hesitate to seek a second opinion. Consulting with multiple surgeons can help you gain different perspectives and make a more informed decision.
Trust Your Instincts: Lastly, trust your instincts. Choose a surgeon with whom you feel comfortable and have confidence in their abilities. The surgeon-patient relationship is crucial, and you should feel well-supported and informed throughout the process.
Remember, finding the best PRK surgeon is a critical step in ensuring a successful outcome. Take your time, do thorough research, and make an informed decision that aligns with your needs and preferences.
Conclusion
In conclusion, PRK for presbyopia is a powerful laser eye surgery technique that primarily addresses refractive errors such as nearsightedness, farsightedness, and astigmatism. While it is not specifically designed to correct presbyopia, modifications can be made during PRK to improve near vision to some extent. By reshaping the cornea and employing techniques like monovision or blended vision, PRK can offer a multifocal approach to enhance both near and distance vision.